Residency in Yellow Springs, Ohio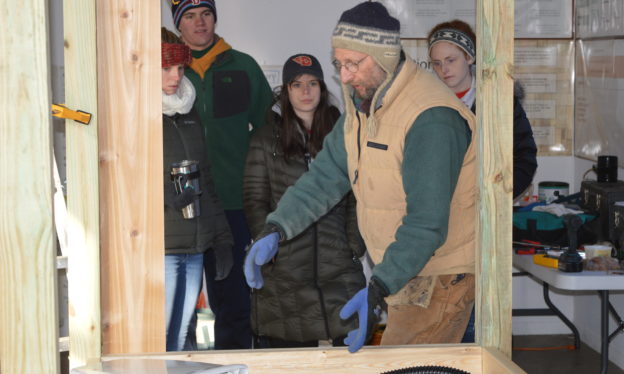 Rich Earth Board member Ben Goldberg led the charge on a weekend building bash in the old and cold (unheated) art building on the Antioch College campus for a week in March. Students from Antioch and the University of Dayton worked in shifts to build from scratch, a urine diverting dry composting (portable outdoor) toilet. (UDDCT)
The 20 plus students from Dayton are part of the ETHOS program, a service learning component of the engineering school which sends students for domestic and international internships.  Many participants in this weekend project were traveling to developing countries and some of them would be working to build UDDCT's in remote areas.Joined by Executive Director Kim Nace, Board Member Conor Lally, and colleague Ben Howard from Ohio State University, students learned the basics of construction as well as the intricacies of the urine diverting system.  They also were presented with the full scientific underpinnings of Rich Earth's research work with a powerpoint presentation.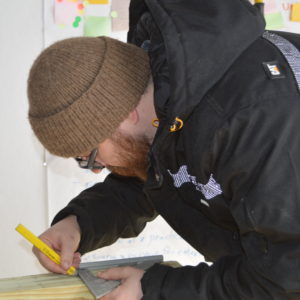 In addition to classrooms and an open public presentation in Yellow Springs,  Kim traveled to nearby Wittenberg College and Sinclair Community college where the message of ecological sanitation met with student audiences in Environmental Education, Environmental Communications and Geology classes.
Thank You to Ben for his persistence, teaching and mentoring skills. And deep gratitude to Beth Bridgeman, of Antioch College for the many volunteer hours she spent soliciting the funds, coordinating the schedules between 4 schools and graciously hosting our Rich Earth team at her home. Beth made this residency possible and it was a fantastic learning experience for all of us.  
Currently, this toilet will serve as a demonstration model, travelling to Earth Day celebrations, farmers markets and other festivals to teach a new concept: The Toilet: no longer a waste disposal appliance….but a nutrient recovery facility.