Outreach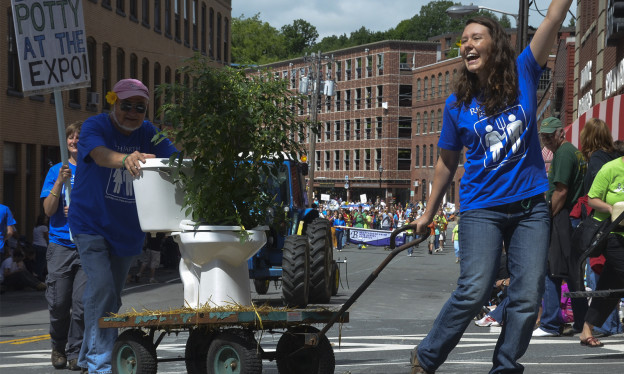 Toilet Tours
A urine diverting dry composting toilet is the central attraction for visitors at the office of the Rich Earth Institute. Since installation in 2012, hundreds of people have learned about (and used) this toilet, which is completely odorless and has zero discharge to the sewer system. Visitors have included college groups, government officials, media, and visitors from Germany, China, South Africa, Mexico, and many other countries.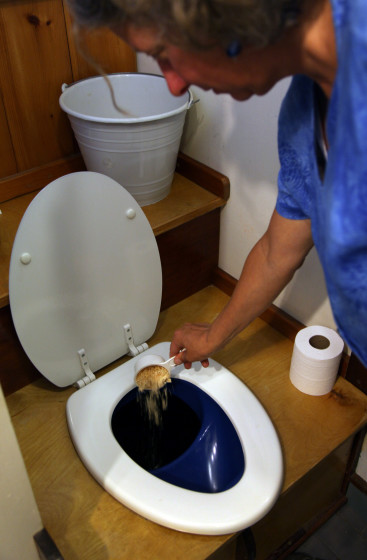 Field days
Farmers, engineers, and the press are always welcome at the Rich Earth Institute's study sites. In this photo, engineers and EPA officials from Boston and New Hampshire witness a urine transfer event. Seth True of Best Septic Services transported more than 500 gallons of urine to Fair Winds Farm, while documentary filmmakers captured the process.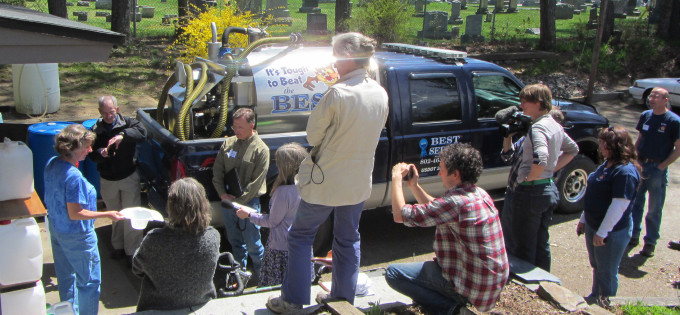 Conferences
Since 2013, Rich Earth staff have presented their work at the following conferences:
Water Environment Federation's Annual Technical Exhibition and Conference (WEFTEC)
New England Water Environment Association (NEWEA)
Slow Living Summit
Vermont Biosolids Forum
Northeast Organic Farming Association (NOFA)
Vermont Grazing and Livestock Association
International Bio-Char Conference
International Waste Management Conference
Acorn Festival
New England Sustainable Energy Alliance (NESEA) Building Energy Conference
Massachusetts Institute of Technology (MIT) Sustainability Summit.
Workshops and Seminars
As opportunities arise we present to college and university audiences, sharing the scientific foundation of nutrient reclamation and research results of the Rich Earth Institute's field trials. We have presented to groups from the University of Michigan, Marlboro College, Conway School of Landscape Design, Yale University, Hampshire College, and the School for International Training.
World Toilet Day
The United Nations designated November 19th to raise awareness of the 2.5 billion people in the world who have no sanitation facilities. Diseases due to poor sanitation are the leading cause of death for children in developing countries. Kim spoke at the United Nations for the 2013 observance of World Toilet Day, and is pictured here with Jack Sim, founder of the World Toilet Foundation and a global advocate for universal sanitation.