New Grants Support Summer Research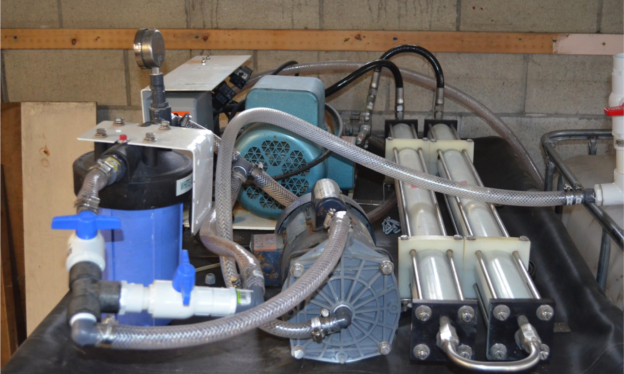 The Rich Earth Institute's flagship program, the Urine Nutrient Reclamation Project, has received additional funds. Thanks to a $25,000 summer grant from the Water Environment & Reuse Foundation (WERF), Abe will continue developing reverse osmosis as a treatment method to reduce the volume of urine for ease of transport and storage between seasons of fertilizing.
Since March 2015, Noe-Hays has been working to maximize retention of the nitrogen and phosphorus in urine while extracting water using a reverse osmosis machine.  Originally intended to desalinate sea water and provide drinking water on a yacht in Florida, this equipment has been tailored to remove the water and retain the nutrients from the urine.
Reducing the volume of urine is critical for taking this project to scale because it reduces both transportation and storage costs. To date, Rich Earth has demonstrated reduction by a factor of 5; meaning that 100 gallons can be reduced to a 20-gallon concentrate of nutrients.
Recently, additional grants have been secured from the Thomas Thompson Trust, Ben and Jerry's Foundation, Crosby-Gannet and Dunham-Mason Funds of the Vermont Community Foundation and the Harris and Frances Block Foundation. These funds are targeted to build new portable urinals, upgrade essential equipment and subsequently increase the quantity of urine delivered to farm fields in the Windham County region. With upgraded equipment and increased capacity, the Rich Earth Institute will be ready to grow beyond our annual average of 5,000 gallons of recycled urine, adding new donor participants and new farms to the project.