Liquid Gold – Spring Pump Out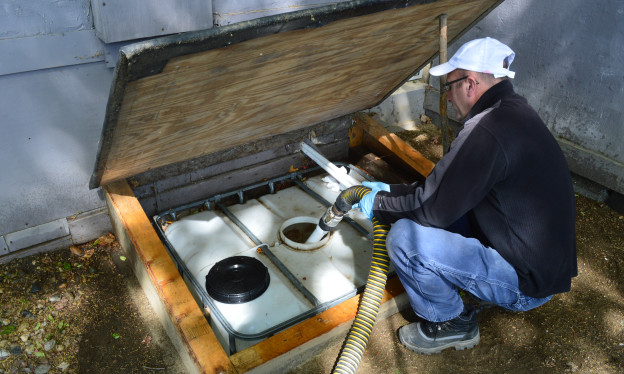 Maple syrup is not the only liquid gold to flow in the spring in the hills of Windham County!
The homes of eighteen donors are equipped with large storage tanks–mostly with 55 gallon barrels and several with 275 gallon tanks. Our pump out routine has evolved into a regular event at 6 month intervals. In May and October we gather the urine from participating homes around Windham County with our partners at Best Septic Services of Westminster, hauling it to our farms for treatment and eventual application to hayfields.
A shout-out to Seth True, who showed up early with his modified pumper truck. Used primarily to pump and service portable toilets, Seth has added a dedicated tank and hoses to enable him to transport urine for the Rich Earth Institute. We logged over 100 miles between 10:00 AM and 7:00 PM,  transporting more than 1300 gallons of urine to our two farms! This urine will provide all the fertilizer needed to grow about 1.5 acres of hay.
18,850 gallons of water were conserved in the process and we prevented 75 pounds of nitrogen pollution of the waterways in our community!
Side-note: In winter, the urine can and does freeze in the outside barrels. This has no impact on the quality of the fertilizer value, as all nutrients remain intact when urine freezes. In fact, the freezing process can be used to make a concentrated fertilizer product–when urine freezes, the first 75% of the ice that forms is almost entirely water. Draining off the unfrozen concentrate at this point yields a product that contains 80% of the nutrients in just 25% of the volume. This is the same process used in making applejack liquor, and that maple sugarers sometimes employ to boost the sugar concentration in maple sap!