Board Retreat
Bottom left to right: Neil Patel, our intern, Ben Goldberg, Dan Marks, Tatiana Schrieber, Ethan Hazzard-Watkins, top row: Kim Nace,Director, Emily Fabel, Marion Abell, John Hatton, Konrad Scheltema, Abe Noe-Hays, Director.
Today was our annual board retreat facilitated by Diana Wahle. We celebrated our successes and set forth goals for the coming year.  We also celebrated a birthday, remembered Molly Dowd who was at our retreat in 2014, laughed and cried, ate great food, and enjoyed each others' company on a very cold January day.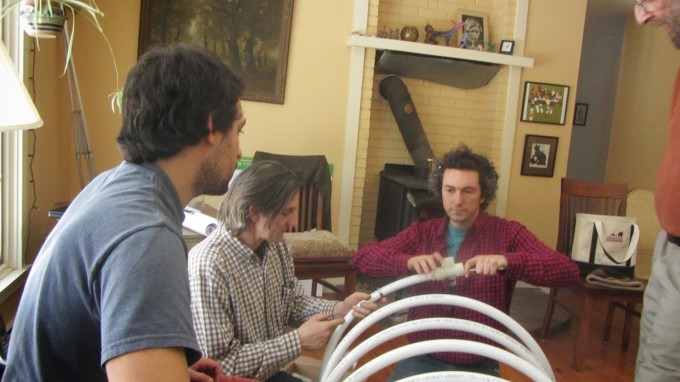 After lunch, our experimental design team worked on the heat exchanger for our mobile pasteurizing unit.
After it was assembled, they ran a test on the efficiency and were most pleased with the results. Initial calculations show that it will cost $4 of electricity to pasteurize 1,000 gallons of urine.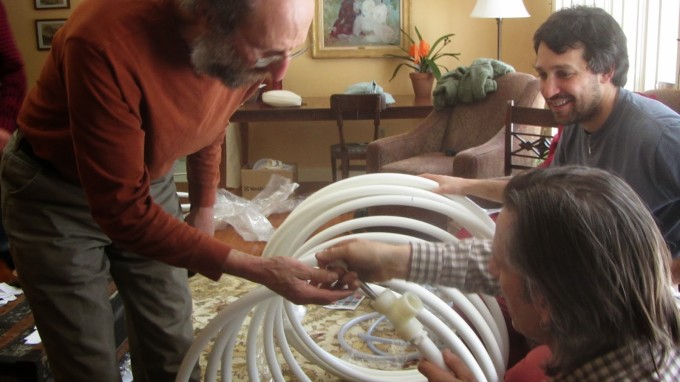 We anticipate our VT State permit being complete in a month or two and we'll be ready to take this on the road in the Spring of 2015!
To follow this blog, put me in your bookmarks and keep checking. I'm getting excited to leave for Kenya…..3 more days!