Biozoners!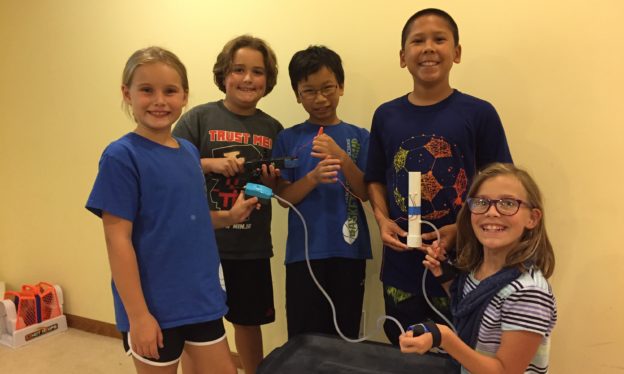 Kim spent some time on Skype with these amazing students from Michigan. Please read their guest blog post and watch their video…
Hi! We're the Biozoners (Andrew, Annabelle, Jack, Johanna, and Sophia), and we're a 5th grade FIRST LEGO League robotics team. As part of our FLL season, we did research on the problem of pharmaceuticals being found in surface and drinking water. We found that up to 90% of the pharmaceuticals you take are excreted into wastewater. The EPA doesn't require wastewater treatment plants to remove pharmaceuticals, so they're just flushed into rivers and can end up in our drinking supply.
We did research on how to destroy pharmaceuticals or filter them out of urine. We found that ozone breaks down 90% of pharmaceuticals, and activated carbon (biochar) also absorbs 90% of pharmaceuticals. We designed a solution called the Pee-Cycling Pipe to take pharmaceuticals out of urine. The Pee-Cycling Pipe can be installed in buildings with urine-diverting toilets, like the one we visited at Prof. Love's research lab at the University of Michigan.
When urine fills up the Pee-Cycling Pipe, it acts as a conductor and connects two wires in the pipe, which turns on an ozone generator. The ozone goes through a diffuser to make lots of bubbles and break down the pharmaceuticals. Then the urine drains slowly through a layer of activated carbon, which absorbs the pharmaceuticals.
We built this prototype of the Pee-Cycling Pipe and hope that groups like the Rich Earth Institute can use it to take pharmaceuticals out of urine.