Staff
FOUNDERS

Abraham Noe-Hays
Abraham Noe-Hays has been working with dry sanitation systems since 1990. He holds a B.A. in Human Ecology with concentrations in agroecology and compost science from the College of the Atlantic, where his interest in recycling human manure led to an internship at Woods End Research Laboratory and his thesis project, "An Experiment in Thermophilic Composting." He has operated Full Circle Compost Consulting since 2001, providing complete design, manufacture, and maintenance services to individuals and institutions with dry toilet systems. He is also the eco-sanitation expert for Sustainable Harvest International, which he has helped to initiate urine-diversion projects in Nicaragua, Honduras, Panama, and Belize. In addition to hands-on dry sanitation work, Abraham gives lectures and leads workshops at conferences and schools, and writes articles on the topic.
Kim Nace
Kim Nace holds an M.A. in International Administration from World Learning and an M.A. in Educational Leadership from Keene State College. She was a Peace Corps volunteer in Botswana and has taught children of all ages. She coordinated research funded by the MacArthur Foundation and later served as an Elementary School Principal – in rural Vermont and in Chennai, India. She has been passionate about sustainable sanitation alternatives ever since creating an educational video about composting toilets for her 1989 master's thesis project. As Co-Founder and Executive Director of the Rich Earth Institute, she has focused her leadership and organizational strengths to build a high performance team at the Institute and to engage others in the possibilities and practicalities of urine recycling. Kim and her family use a urine diverting composting toilet.
ADMINISTRATIVE ASSISTANT

Phoebe Gooding
Phoebe is a Master's candidate in Conservation Biology at Antioch University New England. Her interests in water quality and conservation led her to Mexico where she did her master's project with a local non-profit helping to improve their water quality monitoring program. She is currently the administrative assistant for Rich Earth. Phoebe is also passionate about racial justice and climate change activism. She co-created a 350Vermont node in Brattleboro and also works for 350VT as a workshop facilitator and organizer.
RESEARCH ASSISTANT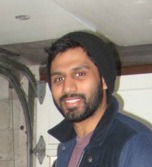 Neil Patel
Neil Patel holds a B.S. in Animal Biology from the University of Massachusetts Amherst and aspires to study veterinary medicine. He joined the Rich Earth Institute in 2014 as a three month Intern and has stayed ever since. Since joining, Neil has provided crucial support in conducting field research, and has become an advocate for nutrient reclamation and eco-sanitation. Outside of the Rich Earth Institute, Neil enjoys spending time with his dog Bilbeaux, cycling, rock climbing, and studying space.
Social Research Associate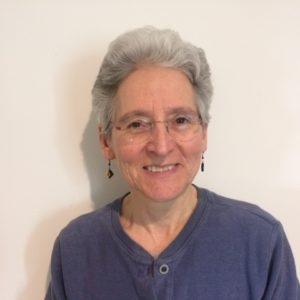 Tatiana Schreiber
Tatiana Schreiber received her B.S. in Rural Sociology and Nutrition from Cornell University, her M.A. in Mass Communications from Emerson College and her Ph.D in Environmental Studies from Antioch University Graduate School. Her graduate work examined economic, ecological and cultural sustainability and resilience among coffee and cacao growers in Chiapas, Mexico.  She has worked as a public radio journalist and freelances for various print media as well as teaches at area colleges. Her on-going scholarly and activist focus is on ways that  agriculture and food can be a means to improve the ecological health of communities.  She also operates a small farmstead, Sowing Peace Farm, in Westminster West, Vermont.
Research Associate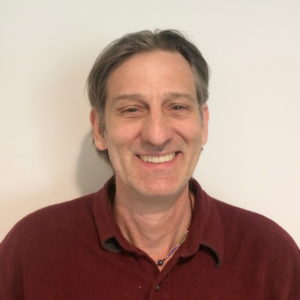 Konrad Scheltema
Konrad Scheltema holds an M.S. in Geology from the University of Massachusetts where he received a Eugene M. Isenberg award for studies in engineering, management and natural science and a B.S. in Geology from Hampshire College where he received a Jerome Lemelson award for Entrepreneurship. He completed the Outdoor Leadership Program at Greenfield Community College. Eclectic research interests have taken him from the bedrock of New England to the North Atlantic and Antarctica. He has worked in green building, focusing on sustainable construction and design and energy retrofitting of existing homes. His hobbies include music, gardening, woodworking and watercolor painting. He is a relentless tinkerer and inventor.
INTERNS

Arthur Davis
Arthur Davis holds a B.A. in Geology and Environmental Studies from Oberlin College and has been a urine donor for the Rich Earth Institute for many years while living in Brattleboro where he grew up. Arthur's first experience working with alternative human waste systems was at Oberlin where he worked on a Living Machine Wastewater System, a closed-loop grey-water recycling system designed to mimic the nitrogen removal processes of wetlands. He has most recently worked as an educator and engineer aboard the Schooner Adventuress in the Puget Sound, teaching about the Puget Sound ecosystem and resource conservation aboard the ship.

Sean Jacobs
Sean is from Springfield, Ohio and attends the University of Dayton. He is majoring in Mechanical Engineering with a minor in Human Movement Biomechanics. Sean most recently worked with Midmark Corporations as a Dental Operations Co-op Engineer, where he helped support and improve multiple dental product lines while solving different day to day problems that occurred within the plant. He is passionate about biomechanics and sustainable energy and enjoys longboarding, hiking, golfing, and slacklining.
PAST INTERNS
Emily Hlavka
Originally from Michigan, Emily is pursuing her M.A. in Sustainable Development at SIT Graduate Institute in Brattleboro, VT and holds a B.A. in International Business from Adrian College. Emily joined the Rich Earth Institute in January 2016 to assist with public relations and community engagement. She is passionate about local food movements and is focusing her studies on sustainable food systems. Emily enjoys hiking, kayaking, and practicing yoga.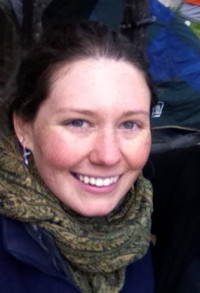 Catherine Bryars
Originally from Atlanta, Catherine came up north to attend Amherst College where she majored in Environmental Studies and Latin American Studies and focused her studies on sustainable agriculture and grassroots movements for environmental justice. In addition to working domestically with farms such as Seeds of Solidarity in Western Massachusetts, Catherine has volunteered with community-based organizations in rural Brazil and Mexico. Her graduate research in Regional Planning at the University of Massachusetts Amherst focuses on the integration of ecological sanitation technologies into regional food systems planning. She is studying the accomplishments of the Rich Earth Institute in Brattleboro, Vermont and the Falmouth Eco-Toilet program on Cape Cod, Massachusetts for her Master's thesis research.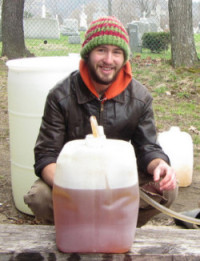 Gabriel Amrhein
From Antioch College in Yellow Springs, Ohio, Gabe joined the Rich Earth Institute for ten weeks in March of 2013 for his Spring Coop Program. He jumped right into pouring urine, pounding soil sampling probes, and cleaning cubies for urine donors. Gabe also served on committees, read voraciously on the subject of urine recycling, prepared for the first year of our participation in the Strolling of the Heifers parade, and contributed to all aspects of the early activities of the Institute. Gabe is a poet, an avid bike rider, and a talented musician, and loves being outdoors.